Towards Carfree Cities IX
- York 2010 - Programme and Presentations - Press - Travel Info
York, UK - 2010
"How do We Get There?"
York, England, 28 June to 1 July 2010
The ninth Towards Carfree Cities conference took place in the historic city of York, England, from Monday 28 June to Thursday 1 July 2010.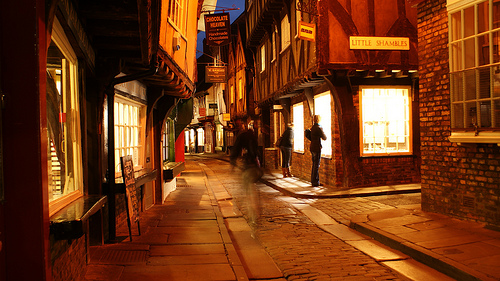 Held in the UK for the first time, the conference was hosted by Carfree UK, with the support of The Co-operative Membership, Cycle Heaven of York, Stockholm Environment Institute - York, and others. We asked the questions: how should we implement the theory, how do we best promote carfree development and how do we gain support for the conversion of car-oriented cities? In short, 'How Do We Get There?'
Presentations from the conference are now available online in .pdf format on the Full Programme page.
About this year's conference
The general focus of the conference is on strategy, collaboration and exchange, assisting the practical work of conference participants, from organising carfree days to planning the carfree cities of the future.
This year's conference, "How Do We Get There?", concentrated on bringing carfree communities to life, considering a range of strategies from temporary events to permanent road space reallocation to European models of new carfree development. We organised a real street closure during the conference!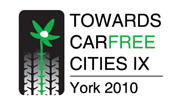 The conference, hosted by Carfree UK and its local partners, was held within the walls of medieval York at the Priory Street Centre, a short walk from the railway station.
Download the conference flyer (PDF document).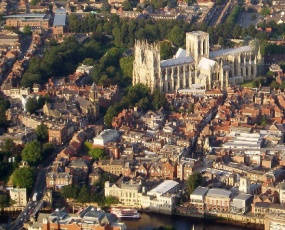 A Bit About York
York is a pre-industrial city of 200,000 in the north-east of England, providing conference- goers with plenty of inspiration...
At its heart is a medieval walled city with rich history dating back to Roman times. Much of it is remarkably well preserved, maintaining its character in one of Europe's largest pedestrianised areas, now known as York's 'footstreets' network.
York is one of the UK's premier cycling cities, and has recently won a major grant as a Cycling City, to improve facilities for cyclists and get more people cycling. York is also a major rail hub, and home to the National Railway Museum, the world's largest railway museum.
The York Cycle Show took place on the weekend of 19-20 June. The Cycle Show website has plenty of local links including travel, accommodation and cycle hire.
For more about York, see Wikipedia, Visit York and History of York.
The Programme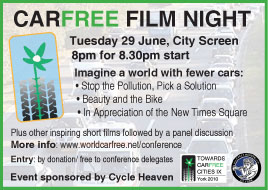 Please see our Programme Summary and Full Programme pages for more information on conference activities - links to individual presentations will be added over the next month or so.
Communications
We have a Facebook group devoted to the conference, where participants can continue to communicate with each other.
You can contact the host team at
Towards Carfree Cities IX would like to thank our principal sponsors and partners:
---