Towards Carfree Cities VIII - Portland
- Portland 2008 - Programme - Presentations
Portland, Oregon (USA) - 2008
TOWARDS CARFREE CITIES VIII:
Rethinking Mobility, Rediscovering Proximity
Portland, Oregon, USA
June 16-20, 2008
Towards Carfree Cities made its North American debut in Portland, Oregon from June 16 - 20, 2008. The theme was "Rethinking Mobility, Rediscovering Proximity". Please also visit the conference website at carfreeportland.org.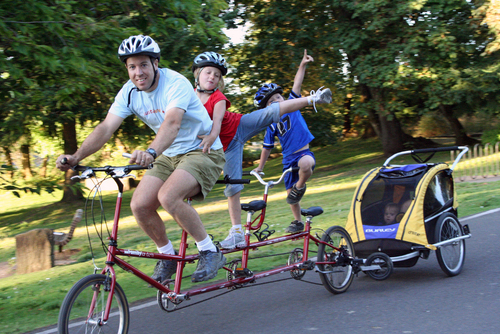 Photo courtesy of Paul Adkins (Bike Friday)



Schedule:
Monday, June 16: Depaving project
Tuesday, June 17: Public Day and Carfree Art Show opening at City Hall
Wednesday, June 18: Movie Night
Thursday, June 19: Square Dance in the street
Friday, June 20: WCN Annual General Meeting


Sunday, June 22: Sunday Parkways, the City of Portland's inaugural ciclovia street closure

The conference coincided with Pedalpalooza, Portland's annual three-week long celebration of bicycling.

For further information:
Conference website: carfreeportland.org
Media enquiries:
For general information:


The conference was co-hosted by:
World Carfree Network
Shift
Carfree City USA
Portland State University
City of Portland


Our media sponsor was bikeportland.org

Portland links:

Watch the Portland presentation given in Istanbul at TCC VII here >>



Conference presentations can be found at Carfreeportland.org.
Previous conferences
Please see the conference archive, containing photos, videos, news coverage and the presentations.