Towards Carfree Cities V - Budapest
- Budapest 2005 - Programme - Presentations - Press - Photos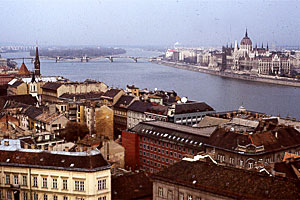 Towards Carfree Cities V, held July 18-21, 2005 in Budapest, Hungary, was hosted by Hungary's Clean Air Action Group, a member organisation of World Carfree Network. Thank you to Clean Air Action and also to the other Hungarian Partner organisation – the Young Hungarian Greens and the Hungarian Traffic Club.
The goal of the Towards Carfree Cities conference series is to bring together people from around the world who are promoting practical alternatives to car dependence - walking, cycling and public transport, and ultimately the transformation of cities, towns and villages into human-scaled environments rich in public space and community life. The focus is on strategy, collaboration and exchange, assisting the practical work of conference participants - whether it be organising carfree days, promoting urban cycling, or building the carfree cities of the future.
---
Sponsor Profile:
Environmental Data Services
Don't waste valuable energy searching for environmental information. ENDS is the byword for reliable information and analysis of environmental developments shaping the business climate.
The ENDS Report - the UK's leading journal of environmental policy and business
ENDS Environment Daily - Europe's original independent environmental e-news service
ENDS Environmental Consultancy Directory - a one-stop contact guide to environmental consultants.
Details of all our products and services can be found at
www.ends.co.uk
---