Back on Track: WCN's Campaign to Improve Europe's Cross-border Trains
TAKE ACTION! Please sign the following petitions against planned cuts to international night trains though Germany:


See also news below.


Rendezvous on Champs-Elysees... Leave Paris in the morning on T.E.E.
In Vienna we sit in a late-night café... Straight connection, T.E.E.

So sang Kraftwerk in their 1977 masterpiece Trans-Europe Express, but there are no direct trains on this route today. Read on if you want to know why and what could be done to stop the deterioration of Europe's international passenger train network...

Here's the successor to that train, the excellent EuroCity 'Mozart', direct from Paris to Vienna using Europe's most comfortable compartment carriages. Sadly this service no longer operates: today you must change in Munich and/or Stuttgart and book each leg of the journey separately...
Europe benefits from a dense rail network, including many international routes that have traditionally been operated in a spirit of cooperation between neighbouring national railway companies. High-speed lines in parts of the continent have shrunk journey times between some major cities, offering a viable alternative to flying on specific corridors. However, the passenger network as a whole is slowly contracting, including direct long-distance international routes.
Cross-border trains are under particular threat for a variety of reasons, including lower demand and higher operating costs (than equivalent domestic routes), poor management and domestic and EU-level politics, compounded by the economic crisis. In recent years passengers have faced line closures, timetable cuts (including the loss of direct long-distance trains), poor connections, ticketing difficulties and insufficient information provision, prompting World Carfree Network to launch Back on Track at the end of 2012. Our aim is to raise awareness of cross-border rail problems, highlight solutions and encourage positive intervention at the national and European levels, while supporting other groups with their own regional pro-rail campaigns.


This train no longer runs via the route shown, nor does its successor run all year round. Indeed, the border crossing between Slovakia and Hungary at Komárno has been closed, extending journey times for long-distance passengers and resulting in the loss of useful local services. NEWS: through coaches from Prague to Bulgaria will not run at all in 2014.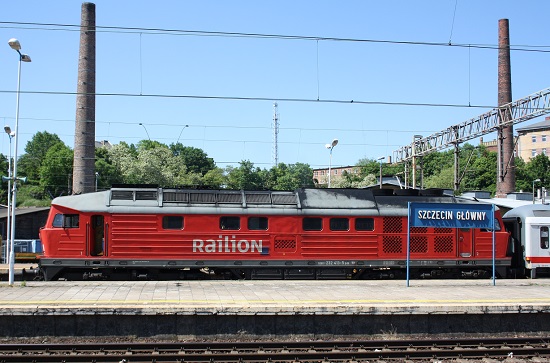 The daily Szczecin (Poland) to Prague via Berlin EuroCity train awaits departure on 25 May 2012. A few weeks later this train was permanently withdrawn, a victim of ticketing difficulties and poor timetabling among other problems.
Most international City Night Line trains to cease operating by 14 December 2014. According to information leaked in July 2014 and subsequently confirmed by DB, the following routes will be scrapped:
Amsterdam - Copenhagen (runs for the last time on 31 October 2014) - Sign petition
the Amsterdam - Cologne part of Amsterdam - Prague
Amsterdam - Zurich
the Amsterdam - Cologne part of Amsterdam - Warsaw
Copenhagen - Prague (runs for the last time on 31 October 2014) - Sign petition
Copenhagen - Zurich (runs for the last time on 31 October 2014) - Sign petition
Paris - Berlin - Sign petition
Paris - Hamburg
Paris - Munich
DSB (Danish railways) has blamed the loss of the Copenhagen routes on the seasonal nature of demand and construction work on the Danish island of Fyn in summer 2015. DB Fernverkehr appears to want to withdraw from this market, having already started to take rolling stock out of service as it becomes due for heavy maintenance. In recent times the service has gained a reputation for poorer service in return for higher fares (for which DB is responsible) and timetabling/booking difficulties (thanks mainly to the inability of the Dutch, French and German infrastructure managers to plan their construction work at least 3 months in advance). Infrastructure managers continue to increase track access charges, further weakening the economic case for night trains. In the meantime airlines continue to enjoy their tax-free status. Put together, this would appear to signal the beginning of the end of night trains in/to/from Germany, which DB has said must cover their operating costs (or else be cut) by the end of 2016. Despite all this, the trains are not empty! The case for publicly procuring such services becomes ever stronger... Click here to read a related opinion piece in the European Rail Journal.

Austria - Italy: Local authorities in Italy are developing proposals to support the reintroduction of long-distance trains from Vienna to Trieste via Ljubljana (Slovenia). News article (in German).

Bosnia - Croatia: Cross-border trains to/from Ploče ceased in December 2013, and ALL passenger trains on the Croatian side of this border finished on 24 April 2014. A total of 10% of domestic services in Croatia were cut at the same time.

Bulgaria - Romania: Regional cross-border trains between Vidin (BG), Golenti and Craiova (RO) via the infamous Danube Bridge II commenced on 10 May 2014. In June 2014 the Optima Express from Villach, Austria to Turkey was reported as running this way. We hear that a long-distance train between Budapest and Sofia is planned to run this way from late 2014.

Czech Republic - Germany: 2-hourly regional trains between Dečin and Rumburk via Bad Schandau, Sebnitz and the 'missing link' to Dolní Poustevna started on 5 July 2014. An improved service will operate between Plauen and Cheb from December 2014. Cranzahl - Vejprty - Chomutov will lose its few remaining passenger trains in December 2014.

Czech Republic - Poland: Kłodzko to Kudowa Zdrój within Poland was expected to reopen on 30 May 2014, reducing the length of the cross-border gap to Náchod Běloves station in the Czech Republic to a mere 5 km walk...

France - Switzerland: a new cross-border regional network centred on Geneva is to be launched in December 2017. More here.

Germany - Austria - Italy: EuroCity trains on the Brenner route continue to be a success story, with longer trains and additional services beyond Verona to Venice and Bologna from April 2014. See this DB press release (in German) for more information, and details of the free Verona public transport ticket for rail passengers!

Germany - Netherlands: local trains between Bad Bentheim and Hengelo will be reinstated (and extended to/from Bielefeld) in 2017. More here.

Germany - Poland: the Hamburg - Berlin - Wrocław Eurocity train 'Wawel' (that ran to/from Kraków until December 2012) will no longer run from mid-December 2014, the final nail in the coffin being the launch of the Berlin - Wrocław - Kraków 'Intercity Bus' in 2013, running 3x daily between Berlin and Wrocław since spring 2014. We expect Munich - Zagreb to be the next target for cuts following the introduction of long-distance buses.

Germany - Sweden: There are reports that Stena Line will move its train ferry operations from Sassnitz to Rostock in late summer 2014. What will this mean for the seasonal couchette trains between Berlin and Malmö...?

Greece - Bulgaria: A new Thessaloniki - Strimon - Kulata - Sofia day train pair was introduced on 10 May 2014, with a reasonably passenger-friendly timetable to boot!

Greece - Macedonia - Serbia: A Belgrade - Skopje - Thessaloniki train pair was introduced on 9/10 May 2014, thus restoring international trains to/from Greece. While this is welcome, we hope the planned 05:00 southbound departure time from Skopje will eventually be shifted later, giving the train a fighting chance to attract leisure travellers.

Romania - Serbia: Services between Kikinda and Jimbolia ceased on 31 August, along with domestic passenger trains on the routes Subotica - Kikinda and Zrenjanin - Belgrade. Domestic passenger services will no longer run between Sombor and Vrbas from 14 December 2014.

Sweden: National operator SJ stopped selling international point to point tickets (except to Copenhagen, Narvik and Oslo) from 1 August.

UK - The Netherlands: Any Dutch Station tickets from London via the Channel Tunnel are available from €62.50 from NS Hispeed.

End of the line for German car trains? There is increasing press speculation that DB will end Autozug operations and instead transport cars by truck (!) from sometime in 2017, leading to the loss of direct trains from northern Germany to southern Austria, France and Italy. Sadly these trains are unavailable to passengers who do not bring a car or motorcycle along, a bizarre and discriminatory policy that has no doubt contributed to the declining economic viability of the network. It is not yet known if the regular City Night Line (sleeper) trains that also convey car transporter wagons will also be affected. With this loss and SNCF's withdrawal from the car train market several years ago, only a handful of routes in/to/from central and south-east Europe will remain. Will Autozug's passengers travel on day trains and hire a car at their destination, or simply drive all the way...? UPDATE: trains on the last remaining Autozug route from Berlin's Wannsee terminal (to Munich) ran for the last time on 26 April 2014.

2014 timetable change summary:

Good news:
Croatia - Hungary: the Zagreb - Budapest service has been restored to two daily direct trains in each direction.
France - Germany: the Paris - Freiburg TGV train pair introduced in August 2007 continues.
France - Spain: new direct AGV trains operate between Lyon/Marseille/Toulouse and Madrid/Barcelona, to be followed (possibly) by Geneva - Barcelona from March sometime in 2014. See also separate story under bad news below.
Italy - Austria: a daytime Eurocity train pair (with Europe's most comfy compartment coaches) has been restored between Venice and Vienna after three years' absence.
Switzerland - Austria: the Zurich - Austria route (via the Arlberg Pass) once again hosts a Eurocity train pair (with extremely comfortable Austrian compartment coaches) in the form of the 'Transalpin' Zurich - Graz, a big improvement over RailJet!
Close but no cigar...
Belgium - France: a slight increase in the number of 'Benelux' InterCity trains, but there are still 2-hour gaps and - because trains do not run north of Den Haag - passengers to/from Amsterdam must endure a tight, stressful, non-cross-platform interchange in Roosendaal.
Germany - Sweden: the Berlin - Malmö overnight train ran again on selected dates in 2014 until mid-August, with a lone daytime train for good measure. We would have featured this under 'good news', but it does not convey sleeping cars and running days are extremely limited.
Italy - Slovenia: two train pairs from Sežana to Ljubljana start back from Villa Opicina in Italy, restoring passenger trains to this border crossing. However, a gap in the Italian rail network remains between Villa Opicina and Trieste, despite the efforts of SŽ to restore services.
Slovenia - Hungary: a service between Ljubljana and Budapest is once again offered via the shortest possible route, but a change of train is required in Maribor. Thankfully through tickets are available at reasonable prices. The train was reported as being substituted by buses or railcars between Hodoš and Maribor from late February until late June owing to "a shortage of diesel locomotives".
Bad news:
Greece remained isolated from all its neighbours at the beginning of 2014! See above for improvements from 9/10 May 2014.
Albania: there is no replacement in sight for the station in Tiranë, closed in summer 2013 to make way for boulevard widening. The line to Pogradec, close to the border with Macedonia, was severed by road construction works in September 2012, with no indication that it will be reopened.
Balkans: no trains between Belgrade (Serbia) and Romania; the poor service of just one train pair between Belgrade and each of Zagreb and Sofia (overnight but without sleeping cars!) will not be improved.
Belgium - Luxembourg - Strasbourg - Switzerland: trains no longer run east of Basel in either direction; the morning train from Brussels is decelerated by 26 minutes until 14 June; the SBB carriages are replaced by SNCB/NMBS coaches without laptop sockets.
Czech Republic - Bulgaria: the direct through coaches no longer run.
Czech Republic - Poland: the daytime direct Eurocity train pair between Prague and Warsaw no longer runs. Trains between Bohumin and Wrocław via Chałupki are also cut.
France - Italy: withdrawal of the overnight train between Paris and Rome; Limone - Breil-sur-Roya - Ventimiglia is likely to lose passenger trains in June 2014.
France - Germany: withdrawal of the last remaining classic Eurocity train pair between Strasbourg and Munich.
France - southern England: the traditional train - ferry - train route via Dieppe - Newhaven has become even more unattractive, thanks to the withdrawal of the last remaining direct trains between Dieppe and Paris. Journey times are extended by 30 minutes. As of 16 Dec 2013 journey planners were not showing the replacement shuttle trains (ordered by the Region Haute-Normandie) between Dieppe and Rouen.
France - Spain: overnight trains between Paris and Barcelona/Madrid, together with direct daytime trains between Montpellier and Alacant along the scenic coastal route via Barcelona and Valencia, were suspended on 14 Dec 2013 in favour of direct Paris - Barcelona daytime TGVs that started the following day. Yes, the journey time has been shrunk considerably... but is still 6 hrs 30 mins from Paris to Barcelona! That's a very long time in trains designed with the same level of comfort as short-haul planes! Add 3 hours for journeys to/from Madrid, and you can see that these routes are eminently suitable for night trains or higher standards of comfort at the very least. We welcome the introduction of new daytime high speed trains, but condemn the accompanying cuts and reduction in choice.
Germany - Netherlands: local trains between Bad Bentheim and Hengelo withdrawn.
Germany - Poland: the Hamburg - Berlin - Wrocław Eurocity train 'Wawel' no longer conveys carriages with laptop sockets. Travel to Kraków is faster via Warsaw!
Poland - Lithuania: the 'temporary' suspension of the daily international connection between Warsaw and Vilnius (with two changes en route) since September 2013 is extended until the end of July 2014 at the earliest sometime in 2015 owing to construction work, with no rail replacement service on the Lithuanian side! Click here for alternative options.
Western Europe - Russia: the through coaches from Basel to Minsk and Berlin to Saratov, Tchelyabinsk and Novosibirsk were withdrawn, destroying the last direct rail links between western Europe and Asian Russia.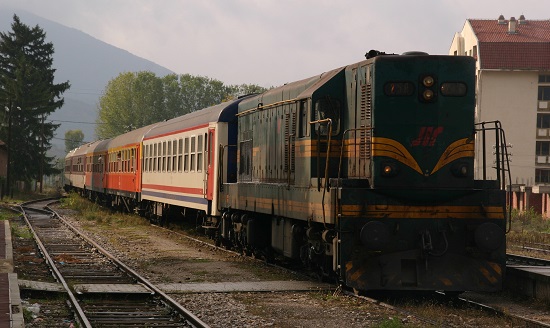 The situation in south-east Europe remains dire. Back in 2007 it was still possible to travel between Ljubljana/Budapest/Vienna and Thessaloniki/Istanbul without changing, but today journeys are an ordeal rather than a pleasure. The lack of day train between Belgrade and Sofia renders many trans-Balkan rail journeys extremely difficult if not completely unfeasible.
Photo courtesy of afc45014 on Flickr.
Trains can offer safe, fast and low-carbon mobility for all, reducing the environmental impact of travel significantly. Rail produces only 25% and 30% of the per passenger km carbon emissions of planes and cars respectively, based on average occupancy figures. These figures do not include the additional climate change impacts of CO2 and other greenhouse gas (GHG) emissions at altitude: for aviation one should therefore consider a 'radiative forcing index' multiplier of between 1.9 and 2.7. Note also that GHG emissions from rail are even lower in countries with a high proportion of renewable electricity generation, including Sweden and Switzerland with their abundant hydro-electric power and almost zero-carbon rail operations.
Trains offer direct city centre to city centre travel and allow passengers to use their on-board time productively. Many people simply enjoy the experience of watching Europe passing their window seat... we often wonder why most railway companies do not follow the lead of Switzerland in actively promoting the comfort and pleasure of rail travel!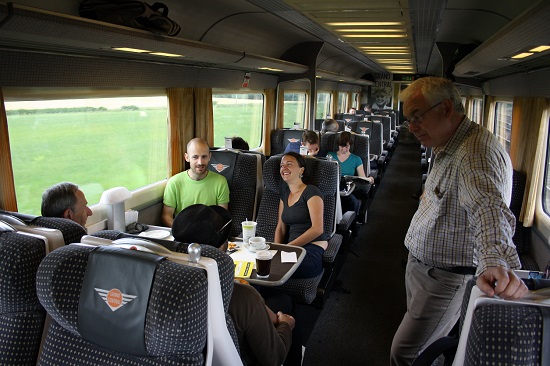 Towards Carfree Cities IX conference participants enjoy a networking opportunity en route from York to a study tour in Newcastle, courtesy of Grand Central. Although this company is a private 'open access' operator, ticketing is - we believe uniquely in Europe - integrated into Britain's national system.
Without railways, there would be many more cars and trucks on Europe's roads, leading to increased congestion, air pollution, fossil fuel consumption, reliance on energy imported from politically unstable parts of the world, noise and accidents (9 people die every day on British roads, considered to be among the safest in the EU). Without Europe's dense network of passenger train routes, how would you get around? Would you buy a car, fly more and/or suffer slow long-distance bus journeys? Or hitchhike...? Would your want to live in your city if it becomes overrun with even more motor vehicles?
European and national transport policy favours aviation. Flight tickets and aviation fuel remain largely untaxed, representing a huge subsidy and making it very difficult for rail to compete on price.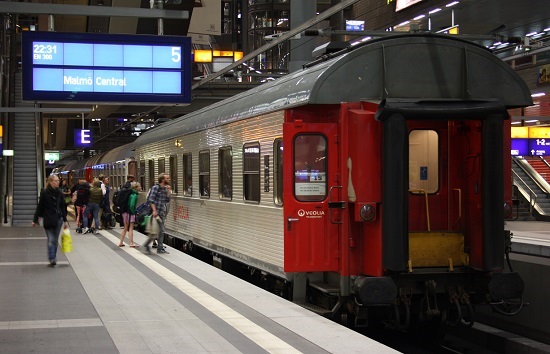 In the early 1990s German and Swedish Railways cooperated in the operation of three daily train pairs between Prague/Dresden/Berlin and Malmö in Sweden. Thanks to the European Commission's liberalisation of aviation, the train became unable to compete with undertaxed low-cost flights on price. A vicious circle of falling passenger numbers and service cuts followed, culminating in first DB, then SJ, pulling out of its operation. Since being taken over by the private operator Veolia in 2012, the remaining Berlin - Malmö service runs 2-3 times per week and without sleeping cars in the short Swedish high summer only. We are of course grateful to Veolia for continuing to participate in the InterRail scheme, one of very few 'open access' operators to do so.
European and national transport policy favours road transport. The European Commission and national governments continue to drag their heels over the implementation of 'user pays' and 'polluter pays' principles for private car use, putting rail at a competitive disadvantage. The road freight industry covers only 60% of the environmental and infrastructure damage it causes, representing another perverse subsidy, while around two thirds of trucks are operated illegally in some way (exceedance of maximum permitted driving hours, overloading, etc). Maximum permitted truck weights continue to be raised across the EU, the Commission having somehow been persuaded by the road haulage lobby that 'supertrucks' will lead to fewer truck movements! Of course it does no such thing and simply undermines the economic viability of rail freight, especially the 'wagonload' market. If rail freight disappears from a particular route, passenger trains then have to bear all the infrastructure maintenance costs.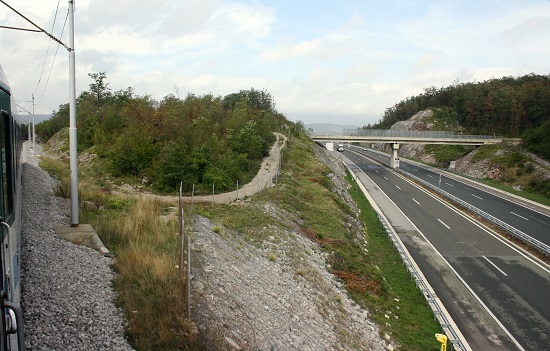 A Rijeka (Croatia) - Ljubljana (Slovenia) - Vienna (Austria) train climbs out of Rijeka in October 2012. Croatian Railways (HZ) announced that the entire Croatian section of the route would lose its passenger trains in December 2012, on the eve of the country's accession to the EU, but WCN's petition helped to persuade HZ to reverse this decision. Within Croatia this line is extremely slow, raising questions as to why speeds were not increased during recent (EU co-financed) work to change the electrification system. In contrast, the parallel road has been lavishly upgraded, undermining the economic viability of the railway. Such scenes can be seen across vast swathes of central and southern Europe.
European policy favours road infrastructure projects, and infrastructure spending in general over operating subsidies. European funding institutions have demanded cuts to public transport funding in many countries during the economic crisis. Motorways and other trunk roads continue to be built and upgraded across the continent, despite the known negative environmental and social consequences, thanks in part to co-financing from the EU's Cohesion and Structural funds, especially in central, eastern and southern Europe. In contrast, parallel rail infrastructure is frequently neglected. This damaging policy background undermines other EU-level transport policy and environmental objectives. Greece stopped running international passenger trains in March 2011 and has closed many domestic routes, including lines recently upgraded with EU money! White elephant motorways and airports continue to be built...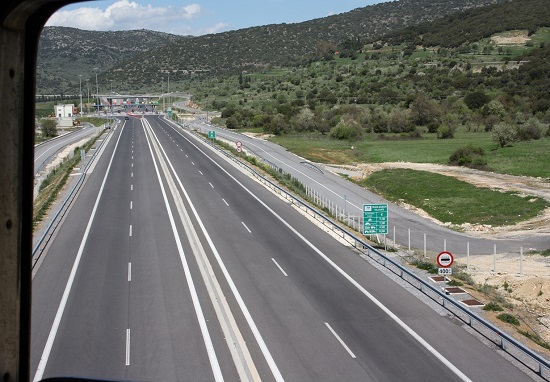 A hugely expensive and hardly used new toll road in the Greek Peloponnese, as seen from a charter train on the Korinthos - Tripolis - Kiparissia line in April 2013, a railway that was modernised with EU money in 2006 but lost all its trains in 2011. No, we are not joking! Public transport disappeared almost overnight, leaving passengers with a choice of the car or staying at home. We wonder how the EC's noble modal shift goals - including a target for rail to account for half of all medium-distance journeys by 2050 - will be achieved if this trend continues?
Domestic politics and legal, institutional and language barriers. Transport is often low on the list of political priorities. Railways come even lower, while there are few votes to be had from improving cross-border railways, where demand is generally lower than on equivalent domestic routes owing to language and cultural barriers. At a time of economic recession, governments tend to look for easy targets for spending cuts, especially when European institutions add to this pressure. In most cases there are genuine additional operating costs associated with international rail routes, while funding/contract mechanisms each side of the border are often incompatible. It is for these reasons that WCN has called for EU funding specifically for the operation of cross-border passenger trains, possibly via the mechanism of competitively tendered Public Service Obligation contracts. Disputes between neighbouring countries can also lead to worse cross-border services, something that is clearly not in the broader interest of the 'single market'.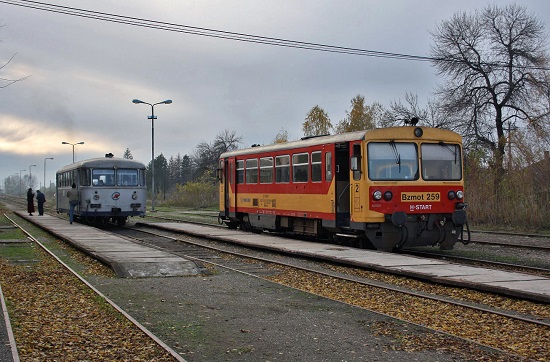 Until recently there were direct trains between Szeged (Hungary) and Subotica (Serbia). Each railway then decided to ban the trains of the other country, for reasons that remain unclear. Passengers are now forced to change trains at the extremely basic border station of Horgoš (pictured). Patronage has dwindled to the extent that these elderly railcars can handle the limited traffic that remains.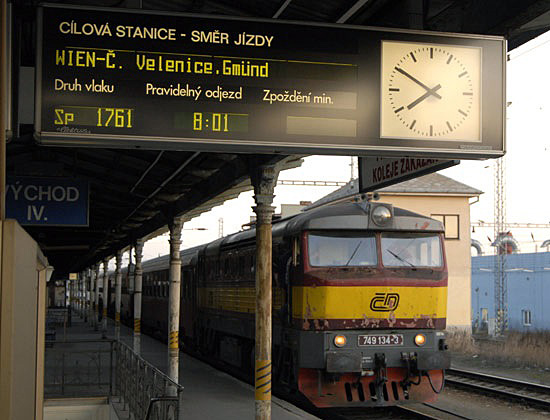 Direct trains were provided between České Budějovice and Vienna until the partially EU-financed electrification of this route on the Czech side was completed. Instead of celebrating this modernisation, we find ourselves wondering why the service has deteriorated.
Image courtesy of Al Pulford.
Management, incentives and conflicts within the rail sector. Although far from perfect by any means, national long-distance rail operators have traditionally cooperated with their neighbours in the areas of timetabling and ticketing, culminating in the EuroCity network that peaked in the early 1990s. This has dwindled in recent years as railways have focussed on their core domestic markets, often in readiness for additional competition from 'open access' operators and/or a desire for profit maximisation, usually associated with 'fattening up' for privatisation. Unfortunately cuts require somewhat less management effort than growing the market and/or improving operational efficiency, so this is exactly what happens in the absence of incentives to attract passengers. Incumbent operators in Italy, Germany and elsewhere have reacted extremely badly to the threat of competition from their neighbours, resulting in the total loss of cooperation (marketing, through/inter-available ticketing between operators, ticket sales, optimal connections, passenger rights, etc.) in some cases. This is very bad news for passengers who - rightly or wrongly - regard 'the railway' as a single system, something that should be hailed as a great strength in comparison with the fragmented aviation and long-distance bus sectors!
Update 1: France - Belgium - Germany: since mid-2013 Thalys and DB no longer sell through tickets for journeys involving both companies. DB has stopped selling any Thalys tickets and has removed all mention of Thalys from its promotional material.
Update 2: The Hamburg - Berlin - Vienna Eurocity train pair will be split in Prague from December 2014. Astonishingly this means the end of direct trains between the capital cities of two German-speaking countries! Connection times in Prague will be 71-75 (!) minutes. Direct daytime trains between Berlin and Budapest will be reduced from 3 pairs (in 2014-15) to one pair of trains from December 2015. However, this is a better outcome than expected, as it was feared that all daytime cross-Prague Eurocity trains would be cut. The route is currently an example of good practice.

High-speed lines have the ability to shrink journey times significantly. But they can also introduce conflicts of interest and reduce choice, especially when the opening of new lines is accompanied by cuts to 'classic' services and international long-distance routes formerly operated under the EuroCity banner. This problem has affected routes to/from France and Belgium in particular, while the journey planner of the former is notorious in being programmed to offer TGVs via Paris when searching for cross-country journeys in southern France! Why is this? Operators want passengers to use high speed trains, in part to justify the construction of new lines and ensure high load factors on trains that are energy-greedy and expensive to operate. Such trains can make more trips per day than slower trains over the same distance, reducing the number required. Management can be so preoccupied with the most profitable high speed services that classic routes are no longer marketed at best, or suffer 'death by a thousand cuts'. By removing choice, passengers are forced to go high speed (often via a longer, more expensive route), especially between provincial cities off the high-speed network, or find an alternative mode.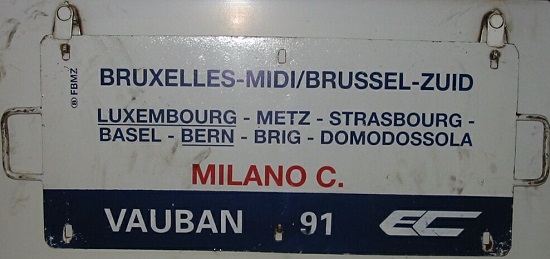 Destination board on a classic EuroCity train from Belgium to Italy. In recent years the route has been decelerated and cut from 3 train pairs per day to 2, while the trains no longer run south of Zurich/Chur. In 2011 eastbound trains were cut back to terminate in Basel, probably a Swiss reaction to the notoriously poor punctuality of trains in this direction. French and Belgian Railways want to force passengers to use expensive TGV trains via Paris (a much longer route with awkward cross-Paris transfer). NEWS: as of 15 December 2013 the westbound trains begin in Basel, signalling the end of SBB's direct involvement in this route. Sadly the trains are now formed of ageing Belgian carriages lacking laptop sockets.
Although high-speed lines can permit speeds as high as 320 km/h, time savings are often squandered by the need to change trains in places such as Brussels, Cologne, Frankfurt, Hendaye/Irun and Strasbourg. This is because high-speed trains tend not to be 'interoperable', and classic 200-230 km/h 'go anywhere' trains have not been modified to be able to travel over high-speed infrastructure with special signal systems. Today there are no direct trains between Paris/Strasbourg and Vienna or Prague, while only one overnight train to Berlin remains. Most high-speed trains in/to/from France, Spain and Italy are 'globally priced', jargon that means there are (i) limited or no through ticketing options, (ii) compulsory reservations and (iii) limited-quota and/or expensive supplements for rail pass holders. French TGVs are generally comfortable enough for journeys of up to 3 hours, but not for longer trips such as Paris - Switzerland/Italy/Spain. There is a general lack of regard for the needs of the (poorly studied) longer-distance market and passengers requiring flexibility in their travel plans, the latter being another example of rail squandering an inherent advantage over other modes...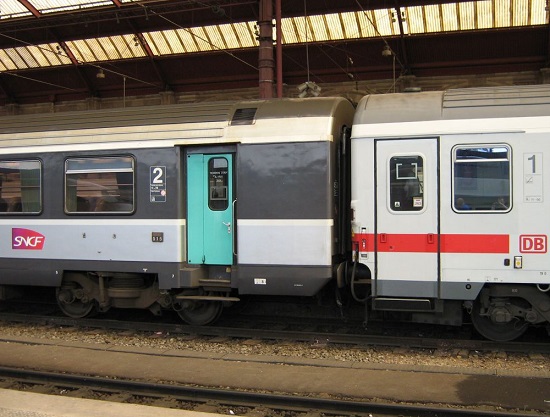 Cooperation and interoperability the traditional way! This Paris - Vienna day train (and its overnight counterpart) disappeared with the opening of the Ligne à Grand Vitesse (LGV) Est between Paris and Strasbourg. Such trains have fallen out of fashion in western Europe as they are generally limited to 200 km/h and cannot be used on French-style high-speed lines, despite the 'go-anywhere', flexible and low-cost nature of the rolling stock. But many people prefer direct journeys rather than having to change several times and fight with the booking systems of multiple operators.
High track and station access charges have killed off many marginal routes in recent years, despite these being supposedly being limited by European-level legislation to the recovery of marginal costs. A high-profile example is the excessive cost of infrastructure use in Belgium, which led to the gradual withdrawal of all overnight trains to/from/via the country, the last to survive being the (Paris -) Brussels - Berlin/Hamburg train, binned in December 2008. Since then overnight trains from Paris to Germany have taken a much longer route through France, while journeys to/from London take much longer and are more expensive, a double whammy for the poor passenger! There are currently no direct trains between Brussels and Berlin/Hamburg.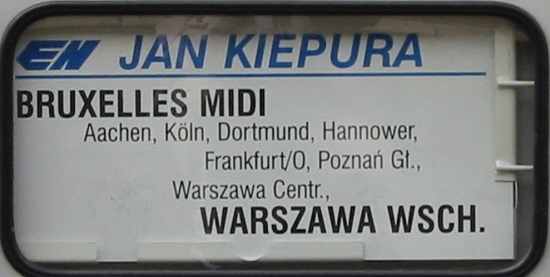 An increasingly distant memory... The train conveyed through carriages to Russia at one time. At least one change of train and two tickets are required by anyone contemplating the journey today.
High track access charges are alleged to have made the Berlin - Kiev - Odessa route (cut in October 2012) uneconomic. With the 'unbundling' of infrastructure management and operations comes fragmentation, leading to internal markets, new profit centres and transaction costs, problems that do not burden car users, bus operators and airlines!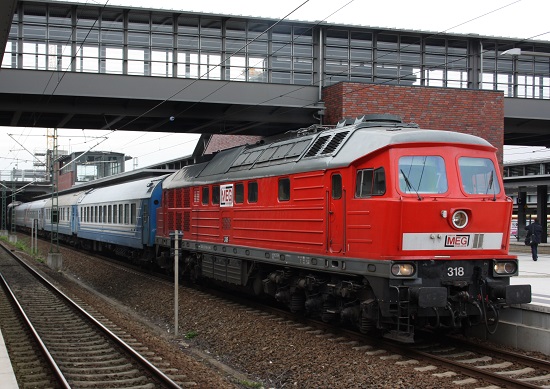 The Berlin - Saratov/Novosibirsk/Tschelyabinsk train stands in Berlin Gesundbrunnen station on 5 October 2013, a train that disappeared from schedules on 7 December 2013.
It's not all doom and gloom! Switzerland remains a beacon of sanity: per capita rail use is the highest in Europe despite the wealth of its citizens, near-universal car ownership, an absence of high-speed lines and no liberalisation of the passenger market. Switzerland's unwaving political commitment to a sustainable transport system, long-term planning horizons, timetable and capacity optimisation and targeted infrastructure improvements are a model for the rest of the world to copy. A ticket can be purchased from any public transport stop to any other, regardless of the number of operators used. A ticket valid on all modes for one year can be purchased for around 3000 EUR. Cooperation and integration are at the heart of the Swiss public transport philosophy. While retaining some commercial freedom, Swiss Federal Railways (SBB) has a brief to maximise rail mode share and accessibility to, from and within the country. This is in stark contrast with the narrow aim of profit maximisation on selected corridors seen elsewhere. SBB retains good relations with its neighbours, as there are few if any competition-related conflicts. Local cross-border routes to Austria, Germany and Italy are well integrated into the national system.
Elsewhere in Europe regional cross-border routes/networks have been successfully tendered, and a handful of trans-European long-distance routes and ticketing schemes remain. Examples can be found in Appendix III of WCN's open letter to the European Commission.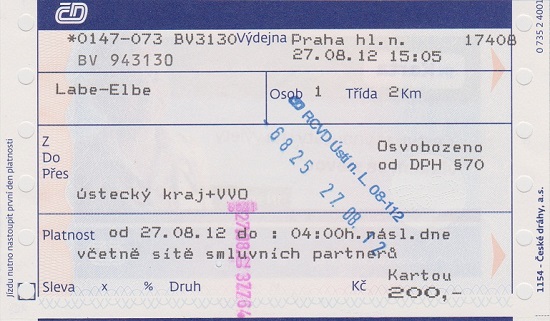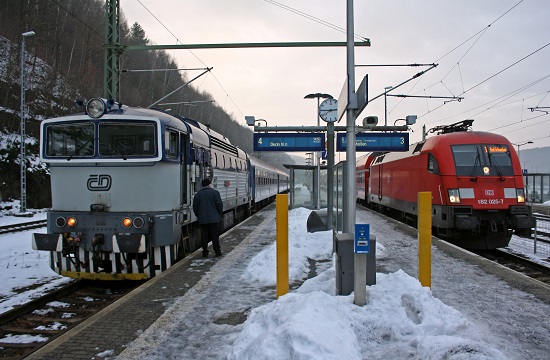 Positive examples do exist! Local authorities in the Germany/Czech Republic border regions in particular have worked hard to offer attractive timetables and integrated ticketing. In this example there is cross-platform interchange and a short wait between a local train from Dresden and a regional cross-border service to Dečin. We welcome competitive tendering for the operation of publically-specified regional routes, provided that the railway still functions as an integrated system.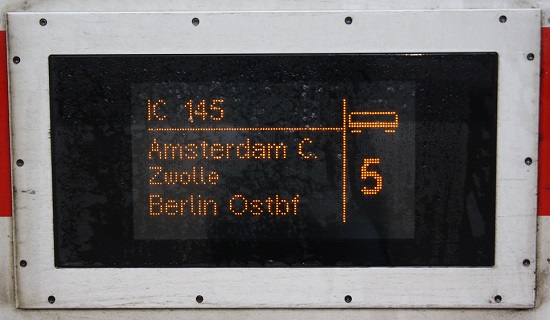 Another survivor and another example of traditional cooperation with interoperable rolling stock! Yes, it takes 7 minutes to change locomotives at the border, but passengers enjoy comfortable and spacious carriages and a reliable service. Why sacrifice that for the sake of 7 minutes? UPDATE: We hear that DB no longer plans to seek authorisation to use its ICx trains in the Netherlands. This should ensure the long-term survival of comfortable, reliable and flexible EuroCity trains on the Berlin - Amsterdam route.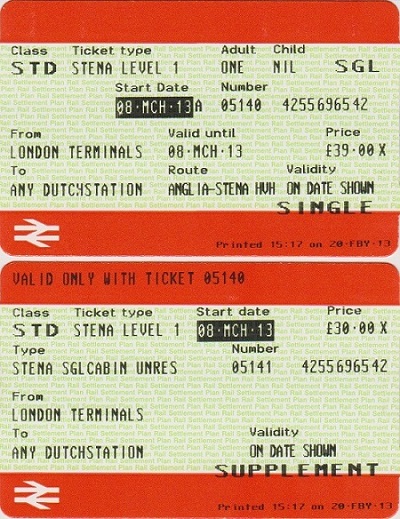 One ticket and no stress when travelling between the south of England and the Netherlands via the Harwich - Hoek van Holland ferry. This is now the only properly integrated Rail & Sail route between the UK and continental Europe. We hope it will survive the threatened conversion of the Hoek van Holland to Rotterdam line into a metro...
What Should Be Done?
WCN has set out a number of solutions that require the will of the European Commission in particular, but also national governments and/or rail operators to implement:
Short-term goals:

A body at European level (the Commission or its agency ERA) should participate pro-actively in the international timetable negotiation process, acting principally to discourage needlessly poor/broken connections. This is not a technological problem!
High track and station access charges are stifling growth and threatening marginal routes. The European Commission should urgently review and mitigate the negative consequences of the requirement for operations and infrastructure management to be separated beyond the level of accounting transparency. Stronger regulation is likely to be necessary.
The European Commission and partners such as UIC/CER should disseminate best practice in the financing and operation of international passenger trains, through high-level conferences and publications.
The European Commission should support the development of online and printed "Man in Seat 61"-type information resources in all Member States, in order to provide impartial expert advice on international surface travel in an easy-to-understand way.

Short- to medium-term goals:

The European Commission and European financial institutions such as the EBRD should consider broad transport mode share and environmental policy goals first and foremost when assessing applications for infrastructure co-funding. Financial institutions' demands for public sector spending cuts must also consider these over-arching long-term objectives. Rules on the use of co-financed infrastructure should be enforced and/or strengthened, such that Member States cannot withdraw (e.g. Greece) or simply not provide (e.g. Danube Bridge 2, etc) passenger rail services on lines recently built/upgraded with European money.

Medium-term goals:

Train operators should rethink their strategy in order to attract more business on routes of > 3 hours travel time. Direct trains, optimised connections, through ticketing and good on-board facilities (WiFi, comfortable seating in a variety of business- and group-friendly layouts, catering) can attract and retain passengers. Consideration should be given to retrofitting classic trains with the equipment needed to use high-speed lines at 200-230 km/h. Cramped, poorly connecting and globally-priced trains simply encourage or force long-distance travellers to use alternatives.
The European Commission should take the lead in pushing for the implementation of 'user pays' and 'polluter pays' principles with regard to road use and flights.
The European Commission and both EU and non-EU countries should research, plan and - where necessary - co-finance the operation of cross-border rail routes to fill gaps in the passenger rail network. Public service obligations (PSOs) and competitive tendering are possible solutions.
The European Parliament and Commission should prepare legislation to oblige passenger train operators to sell and accept through tickets for journeys involving more than one operator. This might well require the establishment of systems such as the Rail Settlement Plan used in the UK. If this is not possible, the Commission should take the lead in developing/procuring an independent, impartial and free-to-use trans-European booking service. In addition, legislation on passenger rights should be updated to reflect the fragmented nature of the railway in many parts of Europe, in particular journeys made using combinations of two or more tickets.

Long-term goals:

The Commission should take the lead in the development of an integrated, regular-interval long-distance trans-European passenger train network, rather than applying the TEN-T corridor-based approach that is better suited to freight. There should be greater emphasis on planning and funding operations rather than capital expenditure on infrastructure.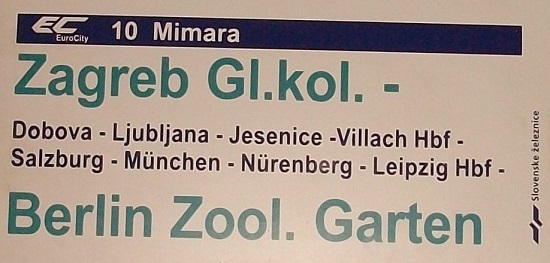 The 'Mimara' offered a direct and comfortable direct link from Berlin to Zagreb until the year 2000, and was fully integrated into the German InterCity/InterRegio network that has since contracted substantially. Today there is no suitable 'carrier' train for the carriages within Germany. As a consequence you have to change once or twice and journeys are longer despite the use of a shorter, faster route in Germany.
Lower image courtesy of Peter Biewald.
Action Taken by WCN
WCN launched an online petition against Croatian Railways in November 2012 in response to its plans to cut almost all international trains. This pressure helped to save 12 out of the 44 daily trains listed for withdrawal.
This was followed up with an open letter to the European Commission's Transport Commissioner and the Director General of DG-MOVE (the EC's Transport and Mobility wing). This explains the problems, provides detailed lists of recent line closures and timetable cuts, and outlines WCN's suggestions to improve the situation in the short-, medium- and long-term. We found the Commission's reply unacceptable, since it fails to acknowlege its role in creating some of the problems and possibly mitigating them in the future. Instead, the Commission continues to pursue (i) 'vertical separation' of infrastructure and operations, and (ii) expensive, disruptive technological solutions as virtuous policy objectives rather than means to a particular end. Yet these goals are likely to exacerbate rather than solve the problems of fewer direct trains, poor connections and fragmented ticketing...
In response WCN has teamed up with Michael Cramer MEP to try to get proper answers out of the European Commission. Why have EU infrastructure funds been repeatedly mis-spent, and why is the EC's rhetoric on seamless mobility (one journey, one ticket, etc) not matched by legislation to preserve through ticketing and passenger rights when using multiple operators? Michael is assisting us by asking questions in the European Parliament.
World Carfree Network continues to monitor the situation and will bring you updates here and via our discussion forum...
Questions, comments and your own examples of good and bad practice in cross-border railways are welcomed by e-mail to , WCN's Back on Track Campaign Co-ordinator.
You can also join the debate on WCN's discussion forum.
Written Questions in the European Parliament
Note that parliamentary questions are generally posed by elected Members of the European Parliament and directed at the European Commission (the EU's unelected executive agency). You can judge the quality of the answers for yourself!