QUOTATION OF THE MONTH

"No one's advocating for putting [the freeway] back".

Thus spoke John Norquist, who as mayor of Milwaukee, WI, USA, presided over the demolition of the Park East Freeway in 2002. This comes at a time when many other freeways are under consideration for a similar fate.
Read more.

---
WORLD CARFREE NETWORK ANNOUNCEMENTS
LOTS TO READ ON CARBUSTERS!
Looking for hard-hitting inspiration? Do you want to catch up any recent articles or check out some of the quality writing that has been a part of the Carbusters movement for the last 13 years? Don't forget to browse the website or download the back issues. Many of the articles found there are as valid now as when they were first written!
Read more

SEND US YOUR NEWS!

A lot of the news featured in World Carfree Monthly News is sent by our readers - people who enjoy the news service and contribute valuable news items every month. Please consider regularly contributing worthwhile news items that you think would be of interest to others. The concept of carfree is what makes this a unique newsletter, but any news related to sustainable transport and affiliated subjects is welcome. Note that we also welcome pictures. Keep an eye on the call for submissions roughly a week before publication.
Get in touch at bulletin@worldcarfree.net

NOTE ON THIS ISSUE

We have been working on ironing out some of the design issues, so the format is slightly different. In case everything doesn't look quite perfect, please excuse us! That is also the reason this issue comes out a few days later. We plan to keep refining it. You may see the version on the website also looks slightly different from the email version. Feedback is always welcome!

---
GENERAL ANNOUNCEMENTS
CARFREE VILLAGE PROPOSAL

There is a proposal to create a compact, carfree, 125 acre village, on a site totaling 500 acres in southern Piscataquis County, Maine, USA. Currently investors have already made commitments that amount to 1/8 of the total amount needed. Anyone interested in this project is requested to get in touch with the initiators.

Watch a slide show. Connect on facebook.
Write to tracygayton@gmail.com.

SAFE STREETS CHALLENGE

World Streets is opening the Safe Streets Challenge, to run between 2012 and 2015. An introduction and a description of what is to come are already available on a dedicated website as well as facebook page.
Read more
ROAD DEATHS MAP

An interactive Road deaths map is available that shows all of the deaths that occurred on US and UK streets in the first decade of the 21st Century. The zoomable map breaks down data by specific location, year of crash, age of deceased, and mode of transport. The organisation RoadPeace has also created a video commemorating cyclists killed in London in 2011. Watch it.
Read more US UK

CARFREE TIMES - FRESH ISSUE

Carfree Times #64 has just been released. It is the last Carfree Times issue this year, and according to author Joel Crawford, "Carfree.com as a whole will have served about 1.2 million pages and 95 GB of files in 2011."
Read more
---
ACTION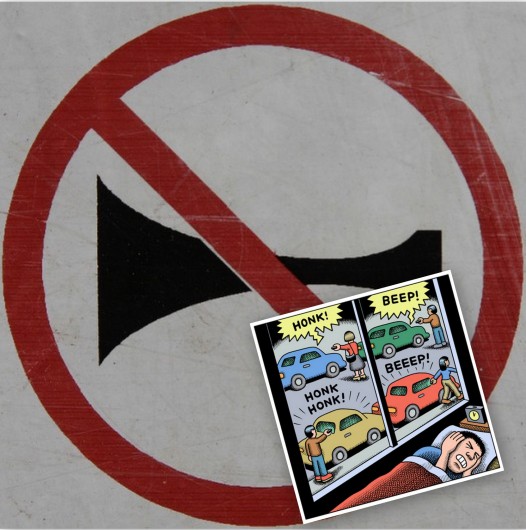 ELIMINATE HORN HONKING!
Horn honking is a nuisance to many people. Horns going off at night disturbs everyone.
A New York resident decided she would take it no more and has launched a petition to get this technology eliminated and bring about saner air waves for everyone. There are alternative technologies that are already available.

So please take a moment to go to the petition and sign it. Pass it onto your friends who would also like to put a end to useless noise pollution.

You will sleep better tonight!

The petition is located here.

---
IN THE NEWS
Delhi leaders announced plans for a congestion charge to ease traffic woes in the city. The 150-rupee fee, which would be imposed on private vehicles entering central city areas during the day, will encourage the use public transportation instead. Motor-vehicle traffic in Delhi has doubled in the last five years. In the meantime, India is posting its lowest car sales in a decade with a drop of 23.8 percent in October 2011.
Read more

In the Indian state of Bihar, it has been noticed that providing students with bikes increases school attendance. The Mukhyamantri Balika Cycling Yojna project gives female students in the state of Bihar 2,000 rupees so that they can buy a bicycle to travel to school. Since the project began, 871,000 girls have started cycling to school, and the number of girls enrolled in school has increased from 160,000 to 490,000 over the last seven years.
Read more

China matures as an automobile society. The 100 millionth vehicle was added to China's streets late this year; that number is expected to reach 200 million by the year 2020, by which time private cars are also expected to be the primary means of transportation. Some have questioned the strategy of car bans and would rather see the automobile embraced, including some within the government.
Read more

By 2012 Beijing is set to reach 5 million cars. It is already the country's most congested city.
Read more

A world away, Sacramento's State Route 275, once a mile-long stretch of freeway, has been converted into the Tower Bridge Gateway, a landscaped boulevard featuring wide sidewalks, bike lanes, trees, street-level pedestrian crossings, and 35 mph speed limits.
Read more

At a sport's outing in Japan, a number of luxary cars (including 8 Ferraris) were all involved in a pile-up crash that spared humans, but cost $3.85 million. The cars were moving at 140-160 km/h at the time this happened.
Read more

After Paris's successful bike hire system Velib', the city has just now launched a short term public car rental system, called Autolib' - which is the first car rental system of this scale in a European capital. Autolib' has 1120 stations and 3000 electric Bluecars.
Read more

---
REPORTS
ECF STUDY ON CYCLING AND EMISSIONS

A new study put out by the European Cyclists' Federation (ECF) investigates the potential of cycling to reduce emissions. This is the first study to take into account emissions related to production, maintenance and the fuel of the bicycle.
The study comes to show that cycling emissions are ten times lower than those of a passenger car and e-bikes have emissions in the same range as ordinary bikes.

The full study is downloadable here.

---
MEDIA & NETWORKING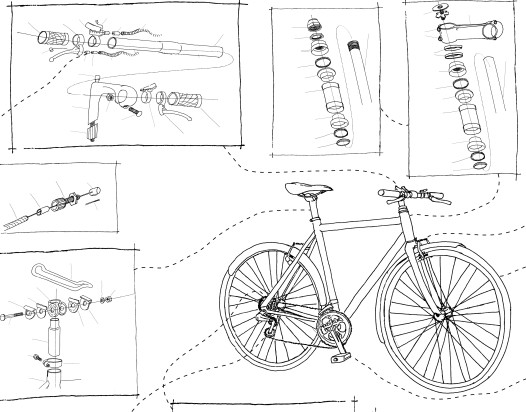 ISOMETRIC BIKE DRAWING

A French collaborative bike mechanics workshop, called "Velorution Ile de France) has created a high-quality isometric biked drawing. The image above is only a portion of what is available.

The image is free to reproduce and modify. Illustrations are not captioned, they can be described in any language. Commercial use is prohibited.

Find drawing here. The drawing with French captions also available here.

Read about Velorution (in French)

"CARFREE CITIES" Youtube CHANNEL

Carfree.com has launched its own Youtube channel - "Carfree Cities". The small but growing collection of carfree themed videos includes "Occupy All Streets" as well as portraits of several urban areas. More videos are expected in the near future.
Watch more

2012 CYCLISTS IN INDIA CALENDAR

A 2012 desktop calendar that features portraits of everyday cyclists in India is available for download as a free, printable PDF. The photographs and accompanying texts describe the daily transportation stories of street vendors, a sewage cleaner, a postal worker, a student, a milkman, a recycler, a software engineer, and more.
Download