Free NYC Cyclists Campaign - Legal Observer Reports
Back to main page.
January, 2006
Six World Carfree Network Legal Observers were on duty for the January 27 Critical Mass ride in Manhattan, all sporting our new bright yellow World Carfree Network vests. For the first time since the NYC legal observer project started, we informed the Manhattan South Police the day before the ride that our legal observers would be monitoring the ride and asked them to respect our right to observe without police interference.
Before the ride started, police handed out a flyer stating that it was "unlawful" to ride a bike in a procession, and that if you chose to ride in a procession you "may" be arrested and your bike "may" be seized. At 7:30 pm, about one hundred riders headed east from Union Square flanked by a line of scooter cops and followed by five or six squad cars. Riders rode about 5 blocks before police began making arrests. Four riders were arrested at 13th and 3rd Avenue. At this location, two scooter officers sustained injuries after they crashed into each other while one officer attempted to make an arrest. Thirteen additional riders were arrested at two different locations. Most arrestees were charged with the standard "parading without a permit" and "disorderly conduct" (almost all 687 riders arrested since August 2004 have been charged with these offenses). One rider was also charged with "assaulting a police officer". Witnesses to this incident reported that the rider was flipped off his bike in the course of being arrested and his bike flew into a police officer. All 17 arrestees had their bikes seized by police as evidence. Ten arrestees were taken to the first precinct and released before midnight. The remaining seven were taken to the ninth precinct and and held until about 1 am.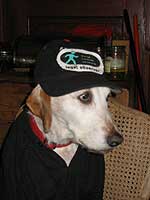 The latest addition to our legal observer team: Rosabel Clover

December, 2005
We had six legal observers at December's Critical Mass: Caroline Samponaro, Mark Taylor, Kit Bland, Elly Blue, Madeline Nelson, and Elizabeth Press. There were 14 arrests at 22nd and Lexington Ave, minutes and blocks from the starting point at Union Square. Although the New York Times reported on the controversial use of undercover officers, there were still clearly undercover police officers on bikes.

Caroline Samponaro went with a handful of others to the 1st precinct, where the 14 arrestees were being held. Two women were released from jail prior to their arrival at 10pm; they were given their bikes and a ticket for biking on the sidewalk. This is the first time this has happened (being allowed to leave with one's bike, getting a ticket and no other charges). Neither of the women were riding on the sidewalk. As others slowly were released, it seems that another arrestee was offered to leave with his bike and a ticket. He eventually was unable to take this offer, because he had a folding bike with wheels that were under the 22-inch diameter minimum making biking on the sidewalk illegal. He was not charged with disorderly conduct, but only with parading without a permit. When asked how this came about, he replied that the police had thanked him for being so cooperative and wanted to make it easier on him. Aside from those three arrestees, everyone else was charged with the usual disorderly conduct and parading without a permit. It doesn't seem that anyone was offered any alternative. One arrestee was apparently questioned by officers outside of his cell (''upstairs") regarding some fliers (kept for evidence) that were in his bag. Madeline Nelson, a WCN legal observer, had her WCN armband confiscated and kept as evidence while in jail. All of those arrested were released by midnight, with the exception of one man who did not have identification. He was kept overnight in jail and was released at some point the following afternoon. FreeWheels representatives were at the precinct with drinks, snacks, info, and loaner bikes. Five of those arrested opted to borrow a bike to ride home and keep until their bikes were released.

November, 2005
The November ride was monitored by World Carfree Network's volunteer legal observers, who shadowed the ride with a video camera. They reported that the police presence at Union Square was huge and intimidating and that their method of rounding-up riders by blocking the street could easily be described as aggressive. Two legal observers from the National Lawyers Guild were also stopped by police, but not arrested. Our observer said she thought her presence might have had some effect in discouraging the police from engaging in more aggresive and/or unlawful activities.

Three bicyclists were arrested and charged with the standard "disorderly conduct" and "parading without a permit". Their bikes were confiscated as evidence, and they were held in jail for a few hours before being released.

Our observer was unable to confirm whether the NYPD had warned riders before the ride that they would be arrested for riding in a group (either by sound-truck or hand-out).

Since December promises to be a cold month with few riders, observations may not be resumed until the new year.

Back to main page.